Phil Orenstein • September 29, 2012 • Uncategorized
We vote, support, donate and volunteer for the political campaigns of candidates whom we entrust to represent our voices and concerns in public office. Besides repealing Obamacare, rolling back the destructive economic policies of President Obama, and cutting taxes and spending, City Councilman Dan Halloran (R-Queens) who is running for Congress in New York's 6th Congressional District speaks out with a lion's roar for American values and moral clarity on the issues. We need thunderous voices in Congress, like Halloran, to lift America out the current fiscal crisis and chaos around the world, not cautious, mollifying talking points and apologies.
In the game of communications many Republicans are presently losing the confidence of American voters. Councilman Halloran is champion of the game. He is a hero to his constituents and local small businesses for speaking out vociferously for their day to day issues, fighting crushing regulations, over-development, and King Bloomberg's prohibitions especially the infuriating new 16 ounce soda ban. In the left wing halls of New York's City Council, Halloran stood up alone to challenge the misguided Ground Zero Mosque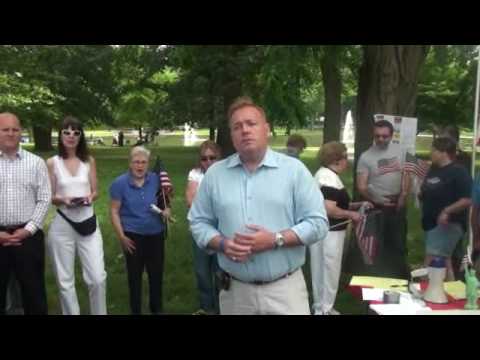 .
No one in public office advocates with such moral clarity for our national security, defense of Israel, protecting our military, reducing the size and scope of government, solving the debt crisis, reducing government dependency, and putting Americans back to work, like Councilman Dan Halloran. In an interview on his positions and legislative agenda, I heard explicit answers on foreign and domestic issues stated unambiguously unlike your typical noncommittal politician. Here are clear and concise answers and position statements in the following excerpts from the interview:
Q:  How have Obama's apology tour and appeasement policies led to the turmoil in the Middle East and the savage attacks on our consulate in Libya and embassies throughout the region?
A:  Halloran responded by stating that our intervention in the "Arab Spring", the so-called pro-democracy movement, destabilized our long time ally, Mubarak's Egypt, all the while our support for the rise of the Muslim Brotherhood in the "Arab Spring" countries has caused the destabilization of Libya, Syria, Lebanon, Yemen and others. We abandoned the revolutionary movement in Iran, an enemy. Not surprisingly, Egypt allowed Coptic Christians to be massacred and an Islamist government to come to power and threaten the Camp David Peace Accords with Israel. It's hardly surprising our embassies overseas are under siege. The clear policy of the Obama administration is that of appeasement.
Q: How has the Obama administration's blaming the unrest on an obscure video, "Innocence of Muslims" become a threat to our 1st amendment rights?
A: Halloran commented that our nation has always protected free speech even when offensive. For a president to apologize to any nation for a privately produced film is absurd. If our government intends to question citizens for exercising their rights under the first amendment for an obscure film, then the government has lost its moral compass. It protects pornographers and pundits on the left every day, but now seeks to suppress the views of a small minority.
Q:  What do you think about Obama's snubbing Israeli Prime Minister Benjamin Netanyahu while agreeing to a meeting with Egypt's new Islamist president, Mohammed Morsi?
A:  This country's strongest ally in the Middle East and sole nation concerned with the rule of law is Israel. It couldn't be clearer that this nation's administration does not honor the long standing support for Israel that every other president had. Obama's funding for terrorist nations and turning away our duly elected representatives and allies is an affront.
Q:  What is your stance on the defense of Israel and the Israel-Palestinian conflict?
A:  I support Jerusalem as the capital of Israel and a requirement for unilateral disarmament of Hamas as a prerequisite to peace talks. Israel should receive full military support in the looming threat with Iran and I believe in applying military and economic pressure on any nation that fails to follow the rule of law or supports a terrorist state.
Q: What is your position on military budget cuts and the congressional "super committee's" plan for automatic defense budget cuts if a budget deal is not reached?
A:  Halloran stated that our military budget includes not only operational costs, but employment of millions in civilian and military positions as well as tens of thousands of contractors around the U.S. In a time where unemployment remains over 8% the last thing we can afford is to cut more jobs. I believe the super committee is unconstitutional as its planned mandatory cuts abrogate Congress's responsibility to debate and vote on the budget.
Q: What would you advocate cutting instead of the military budget to solve the debt crisis?
A:  I would advocate for massive restructuring of government programs and reduction in the number of federal agencies and the implementation of a new federal treasury department that would absorb the Federal Reserve and abolish the IRS in favor of a three-tier flat tax system. I would advocate for the decentralization of the spending and funding to the states on education, social services and public works.
Q:  What do you think of Rep. Peter King's Committee on investigating the threat of Islamic radicalization?
A:  Congressman Peter King has spent a long time looking at the issue posed by radical Islam. Like any extreme and fanatical religious belief, the normal rules of reason do not apply. As someone whose cousin died in the towers on 9-11, I know all too well the threat we face. American democracy depends on our strong Constitutional history and respect for the rule of law as set forth by our founding fathers.
Q:  What about reducing the size of government and people's dependency on it?
A:  The overall dependency on government stems from the increase in the size and scope of government coupled with the stifling effects on small business that government dependency has created. As the first order of business, I would repeal Obamacare.
We have elected a public official who is independent of party leadership, someone who speaks his mind and votes his conscience, which may not always be the party line. This is Councilman Dan Halloran, who is the polar opposite of his Democratic opponent, Assemblywoman Grace Meng (D-Flushing), who has voted 99% of the time with the Democratic leadership in Albany. There is no reason to believe she will be any different in Washington. Ms. Meng will join her fellow Democrats and vote with President Obama and Nancy Pelosi on every issue. No matter what she believes, Ms. Meng will vote the party line, which is destructive for Israel, our military and the economy. In the current clash of views on the size and scope of government and our role on the world stage, Councilman Halloran, an independent fighter will articulate the issues clearly and decisively for the American people and we need to amplify his voice from the chambers of the City Council to the U.S. House of Representatives.
Comments